Experience Art from Local Lancaster Artists
Lancaster Arts Hotel serves as one of Lancaster, PA's premiere art galleries, displaying over $300,000 worth of fine art throughout its historic walls. Our gallery exposes the work of established artists to a broader audience and promotes the rich fabric of the arts in Lancaster County.
"Art to me is about discovery… I encourage [my students] to not get 'precious' with their work, [to] be ready to always risk it for something new. Once we get too precious, then we stop growing the work. It is a metaphor for life."

SUSAN J. GOTTLIEB, LANCASTER ARTIST
The main art gallery, situated on the first floor is open daily and serves as a popular space for BOARD MEETINGS and cocktail parties.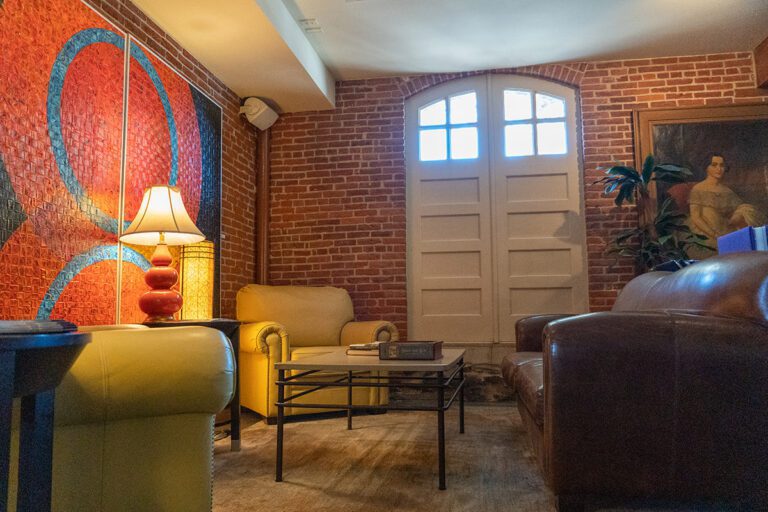 If you are planning to make a special trip to view the art gallery, please call 717-584-9775 to ensure the gallery will not be occupied during your visit.
For information about exhibiting your art at our hotel, please contact Lisa Clemens at 717-203-0131.
Currently on Exhibit
In the Gallery:
Todd Lehman
Sicilian Seductions
Dreams and seduction are themes in this most recent collection of paintings by Todd Lehman, who, as a boy created dreams from his windup toys. These days his toys are the many layers of experience from which to pull inspiration for his work. He introduces the collection this way:
"At the top of the steps that went up to the attic floor there was a cubbyhole that became my hideout – especially on rainy days. There was one small window in the cubbyhole that became my window on my world of strange creatures, large and small, and a window on valiant adventures at sea and in jungles. It was a place where I could make up dreams, some of them the windup dreams that came popping out of my windup toys… The windup toys have gone wherever windup toys go when they get old, but the dreams have not stopped…they are still with me."
In the Blanche Nevin Room:
Fran Williams Wagner
Curvaceous and daring, Fran's sketchbook imagery includes mostly nude studies exploring abstraction geometrically, which often translated into her hand-glazed, tile mosaic designs for murals and wall hangings.
A master of proportion and scale, these works began as sketches on paper, each tile hand cut, textured, glazed, and fired typically in bright oranges, yellows, turquoise and green, the language of the 1960s. Large mural pieces were laid out on the ground, like puzzles at her feet, before being hoisted up to Fran on scaffolding for installation. Smaller wall pieces and tables were commissioned for office buildings, clubs, and private residences, and her work was often published in décor magazines.
Originally from San Francisco, Fran studied in Oakland at the California School of Arts and Crafts, and in San Francisco at Rudolph Schaefer School of Design before moving to Miami, Florida. She spent the mid-century in Miami, a mecca for style and architecture, and became well known for her work.
Her commissions included Miami International Airport, Miami, Florida, First Federal Savings and Loan Association, Key West, Florida, Bacardi Pavilion Bar, San Juan, Puerto Rico, and Rockefeller Center Ticket Office, New York, New York, among numerous others.
For more about Fran Williams Wagner and other artists or to inquire about a purchase, please visit call 717-367-9236 to speak with Lisa Clemens, Director, Arts Hotel Gallery at the Lancaster Arts Hotel.
In John J. Jeffries Restaurant:
David Zimmerman
Artist Statement:
"As a boy, I would spend days in my dad's workshop making things. I learned the basics of woodworking in a commercial cabinet shop. Then I tried college; I tried truck driving; I went back to woodworking. While working with an architect, I was intrigued by the notion of designing and engineering my own work. After years of learning and perfecting the craft, and the rules of traditional woodworking in hand, I've given myself the freedom to break them. Opening myself to be creative and pushing to the edge, I've found joy in my work – each vessel a play in light and shadow.
Warton Eshrick's work was inspirational to me and I was fascinated by Wendel Castles layered and laminated work. In 1980, I discovered a way to make wooden bowls with layered and laminated expanding concentric rings of wood, and I became obsessed with the process – still finding new ways to create with it. My design is not a mental process. It is not a planning process. My best work comes by surprise – it happens while I am making it. My wish is to communicate deeply in the non-verbal language which is beyond words."
For more information on the artists and their work or to inquire about a purchase, please call 717-367-9236 to speak with Lisa Clemens, Director, Arts Hotel Gallery at the Lancaster Arts Hotel. For more info on artist receptions, art submissions, and purchasing, go to ARTSHOTELGALLERY.COM