Are you looking for last-minute deals at romantic hotels in Lancaster County? Do you need a relaxing getaway that isn't too far from home? How about a romantic night in a hotel with a jacuzzi, beer, wine, and unique dining events? You're in luck—the Lancaster Arts Hotel is the right stop for you!
With all the stressors you experience each day, your body and mind need a break from time to time to recharge and feel refreshed. Enjoying art is one of the best ways to relax after you've been going for so long, and a trip to the ARTS-CENTERED city of Lancaster, PA, is exactly what you need!
When traveling to a new city, the place you stay can make or break your experience. That's why here at the Lancaster Arts Hotel, it's so important to us that you have the best experience and package deals we have to offer.
Whether your getaway is relaxing, romantic, for business, or just for fun, we promise you'll have a five-star experience at our Lancaster hotel. Check in at the front desk, and feel free to leave your worries at the door as we have prepared a stay for you that will satisfy you. Just check out our specials to find the right deal for you!
---
Romance & Relaxation Packages
Companionship is essential to your life, and your romantic partner is likely one of your favorite people to spend time with and enjoy new experiences together. It's easy for your love life to take a backburner to kids, job stresses, or even just getting familiar with one another and "losing the spark" over time.
Feeling burnt out has become more common as many people struggle with the increased stresses the pandemic has added to society. Take a load off, reconnect with your partner, or allow yourself the chance to take a deep breath and relax without stress while you visit a beautiful city and enjoy a hotel with a jacuzzi.
Whether you're looking for the perfect romantic atmosphere or need to relax and recharge, Lancaster Arts Hotel is one of the most relaxing and romantic hotels in Lancaster, PA. After staying with us, you'll leave feeling rested, rejuvenated, and inspired. We've furnished our well-appointed guest rooms and hotel suites with handcrafted pieces by local artisans, all curated with your comfort in mind while still SUPPORTING THE LOCAL ARTS SCENE IN LANCASTER COUNTY.
You'll only find the most deluxe conveniences in our romantic Lancaster hotel. Enjoy amenities like a flat-screen TV with premium channels, complimentary Wi-Fi internet access, high-thread count Egyptian cotton  sheets, and more. We're even one of the few local hotels with a jacuzzi tub in our luxury suites! Keep reading to learn more about what romance and relaxation packages we offer here at Lancaster Arts Hotel.
Spa Experience – Add $100
Everyone deserves a spa day—and if you've never had one, you're in luck when you choose a spa experience package at Lancaster Arts Hotel! Indulge a little and treat yourself during your stay with us.
Self-care is much more popular today than ever as people become more comfortable with the idea that it's okay and even necessary to prioritize their own needs before anyone else! A relaxing day at the spa may be just the self-care you need to help you unwind after a tough week.
Be pampered in style with luxury accommodations paired with a gift card to one of Lancaster's Best Spas!!
Our relaxing spa experience package includes these essentials:
Overnight Luxury Accommodations
Complimentary Deluxe Continental Breakfast
$100 Gift Card to Visage A' Visage Spa (Located Less than 1 Mile From Lancaster Arts Hotel), James Street MedSpa (3 blocks from hotel) or Drift Spa (1 mile from hotel).  Please be sure to book your appointment with Visage A 'Visage (717) 299-5315, James Street MedSpa (717) 740-5162 or Drift Spa (717) 803-8593 before you book your Spa Experience package with us to ensure you can use your gift card during your stay.
PLEASE – MAKE SURE YOU LET THE HOTEL KNOW WHICH SPA YOU HAVE CHOSEN SO WE HAVE THE CORRECT GIFT CERTIFICATE FOR YOU WHEN YOU ARRIVE!
1 Bottle of Wine
Taxi Transport to and From the Spa/Hotel
Please note that due to our COVID-19 safety precautions, we are not offering in-room massage options at this time.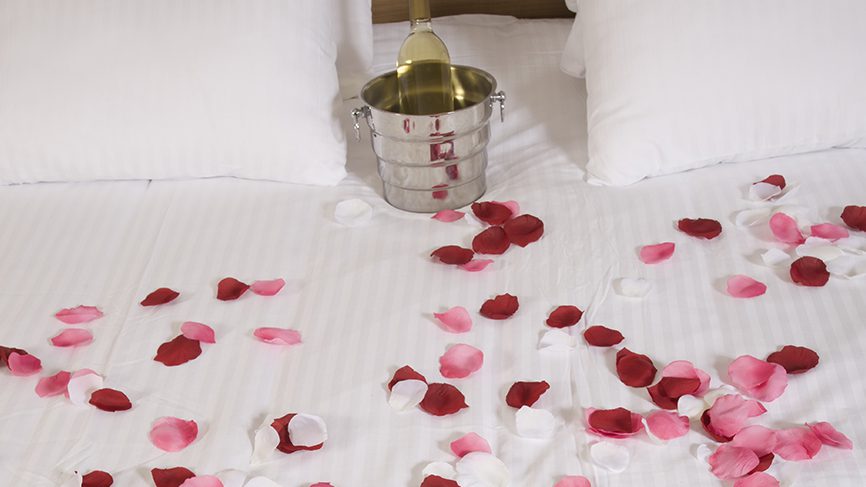 Romantic Getaways – Add $35
Romantic getaways conjure ideas of soft music, candlelit dinners, and sweets for your sweetheart. Everyone loves to be loved, and what better way to show your appreciation for the person you care most about than with a romantic getaway in one of PA's most exciting cities? In Lancaster, you will find plenty of things to do and many ways to show off how much you love your partner as you walk through this beautiful, creative city and explore the art, food, and experiences you will remember forever.
You've come to the right place when you're looking for one of the most romantic hotels with a jacuzzi in Lancaster, PA. Surrounded by luxury, art, and the quaintness of Central PA, our romantic hotel suite package is sure to woo your significant other!
Book one of our luxury suites with a whirlpool jacuzzi in-room for a romantic getaway you won't soon forget. And suppose you want to explore the city further after your luxurious time in the jacuzzi. In that case, we are within walking distance of food, entertainment, and beautiful mom-and-pop shops that are sure to delight you and add to your experience in the city.
Our romantic getaway package includes the perfect touches to make your stay truly lovely:
Complimentary Deluxe Continental Breakfast
Bottle of Champagne Chilled on Ice Before Arrival
Rose Petals and Chocolates in the Room
This budget-friendly package can be added to any room type to instantly enhance the feeling of romance for the duration of your stay!
Taste Lancaster
Do you love beer, wine, and fine dining? If so, you'll find dozens of eclectic restaurant choices throughout Lancaster County, PA, starting with John J. Jeffries restaurant located onsite at the Lancaster Arts Hotel. It's the nightcap you need before heading back to your room to relax in your jacuzzi!
Lancaster County has a lot to offer regarding the food and beer scene, including some popular breweries like Funk Brewing, Moo-Duck Brewery, or Lancaster Brewing Company. Or, if you're interested in trying a few new food stops, why not combine a luxury hotel stay with a night out on the town to enjoy beer, wine, or dining out? We suggest you take a look at some of the recommendations we have over on our BLOG:
LANCASTER CITY NIGHTLIFE: 7 HOTSPOTS TO VISIT MUST-SEE SIGHTS IN HISTORIC DOWNTOWN LANCASTER
---
7 OF OUR FAVORITE PLACES TO VISIT IN LANCASTER COUNTY
Luxury doesn't have to cost an arm and a leg, and you can treat yourself to a beautiful experience in Lancaster with a night or two in a room at our hotel with a jacuzzi.
Our packages include a cozy, well-appointed guest room furnished with handcrafted pieces from local artisans and deluxe amenities like a flat-screen TV with premium channels, complimentary Wi-Fi internet access, and luxurious high-thread count Egyptian cotton sheets. Who could ask for more?
What Else Can I Do In Lancaster?
There's never the chance to be bored when exploring Lancaster County. After you've spent the night enjoying your whirlpool suites or romantic getaway package, take a day to have a mini adventure and try out SOME OF THE THINGS Lancaster offers.
Small, Family-Owned Shops
Farmers' Markets
Art Galleries
Brewery Tours
Escape Rooms
Dutch Wonderland
And if you've exhausted everything you want to do in Lancaster, you can return to your beautiful jacuzzi tub for another night of relaxation!
Ready to Book Your Getaway at a Hotel with a Jacuzzi?
Life is short, and taking time to relax and enjoy yourself is one of the main joys we get to experience! Just because you're making a trip to Amish country, that doesn't mean you have to forgo modern luxuries. So come to Lancaster, treat yourself to a few days of serenity, and luxuriate in one of PA's most culturally significant and exciting areas.
When you need a hotel with a jacuzzi (and not a horse and buggy), check out one of the most relaxing and romantic hotels in Lancaster, PA—the LANCASTER ARTS HOTEL!
Bring someone you love and romance them with our getaway package, treat yourself with a spa day, or enjoy some of the food and drinking options we have available onsite at the hotel or a short walking distance away. We can't wait for you to stay with us!